Oscars Red Carpet: Best Looks of the Night
We celebrate the greatest moments of the year in film and some of the most sublime garments to walk the red carpet in 2014. At the 86th Oscars, we anticipated nothing short of stunning from red carpet darlings like Jennifer Lawrence and Sandra Bullock—and they didn't disappoint. From gorgeous gowns to disastrous dresses, here are the best looks of the night.
Sandra Bullock
Sure, we've seen this classic silhouette many times before, but the navy satin gown with sweetheart neckline is one of the best dresses the "Gravity" actress has ever worn. With side-swept curls, the overall look is lovely.
Charlize Theron
Another red carpet winner, Theron vamped it up in this no-brainer black Dior gown with sheer overlay. The clear straps were another interesting touch.
Naomi Watts
A white T-shirt style dress sounds safe and boring, but Watts elevated this textured Calvin Klein style with her statuesque bod, berry lips, and awesome '90s flip hair.
Ellen DeGeneres
We love a woman who can rock a suit, and the evening's host looked sublime in a custom Saint Laurent ensemble. There were some noteworthy jackets at the Oscars (Jared Leto's white topper was awesome) but Ellen's sparkly velvet navy jacket was the coolest.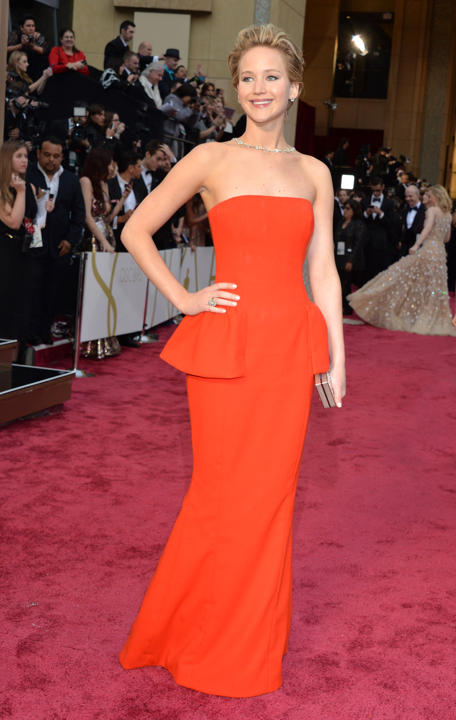 Jennifer Lawrence
The "American Hustle" star looked sensational in red, and this peplum Dior dress really suited her. If we had to pick though, we preferred her red Calvin Klein Oscar gown in 2011.
Emma Watson
You can always count on the British actress to wear a cool, fashion-forward style. This sparkling gray Vera Wang dress was edgy, modern, and chic.
Amy Adams
The "American Hustle" star looks best in figure-hugging gowns, and this strapless navy Gucci number fit like a glove.
Cate Blanchett
The Best Actress winner radiated pure statuesque elegance. She described this Giorgio Armani gown as heavy, but she floated down the red carpet like a dream.
Olivia Wilde
2014 was the year baby bumps took the red carpet by storm. Wilde looked sharp in this black Valentino gown and cat eye makeup.