Celebrity Dads Pushing Baby Strollers
These pictures of celebrity dads pushing baby strollers is just too cute!
Typically, when people think of someone pushing baby strollers, they think of the mom. But that's not the case, those are just stereotypes. However, real fathers aren't afraid to push their children around in a stroller, and that's what these celebrity dads are proving in this photo gallery. Below, you'll find a list of pictures of celebrity dads pushing their children in baby strollers.
Adam Sandler
This famous man is known for his comedy, and has made many movies that were big box office hits. Adam Sandler used to be on Saturday Night Live, but here in this picture, he is with his two children, and pushing one of them around in a stroller.
Ben Affleck
Ben Affleck is mairred to Jennifer Garner, and the two of them have three kids. Here, Ben Affleck is with two of those children, and he's pushing his youngest son in a stroller.
Cash Warren
Cash Warren has two daughters with Hollywood star, Jessica Alba, and here, he is pushing around one of his daughters in a stroller. Jessica Alba is right beside him, and what a cute little family they all make!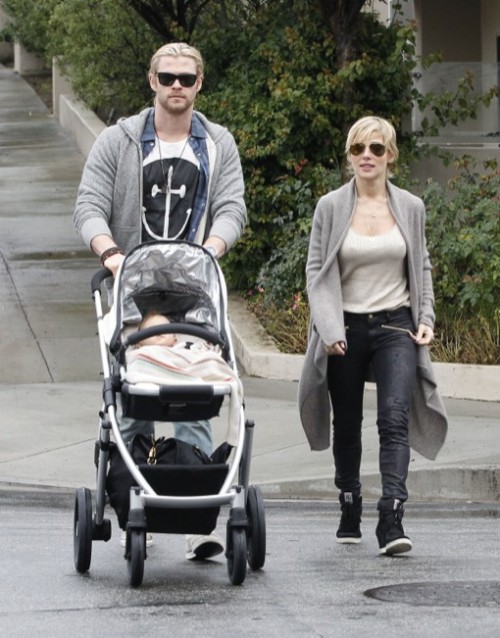 Chris Hemsworth
Here is the star of the Thor and Avengers movies with his wife, and pushing his daughter around in a stroller. It's refreshing to know that even one of the biggest stars in the world will still make time to be with his wife and family!
Ethan Hawke
Ethan Hawke is a devoted family man, and he does have four kids that he is very proud of. Here is a photograph of Ethan Hawke with one of his kids, and he is never too busy to take the time he needs to be with his kids.
Jack Osbourne
Jack Osbourne is the son of hard rocker and reality TV star, Ozzy Osbourne, but like his dad, he really does love his kids.
Jason Bateman
Jason Bateman has been in Hollywood since he was a kid, and even appeared on the show Little House on the Prairie when he was a child. Since that time, Jason Bateman has established himself as an A-list actor who can take on any role.
Mario Lopez
Mario Lopez was on the hit TV show, Saved By the Bell, and since that time he has been on many shows. His love life has often been the subject of many stories, but he finally settled down and now has two adorable kids. Here we see a shirtless Mario Lopez looking very good as he pushes a stroller around.
Matt Damon
The star of the Jason Bourne movies loves his family, and here we see him pushing around on of his kids in a stroller, and boy that little girl sure looks comfortable to have her daddy push her around.
Ricky Martin
Latin singing sensation, Ricky Martin is now living a different life now that he is the father of a set of twin boys. Here, we see Ricky, and one other person, pushing the twins around in a pair of strollers.